Historically, low-interest rates have been one of the most critical developments in the mortgage sector. The average interest rate on a 30-year fixed-rate mortgage in the US as of September 2021 was 2.88%. The climate of low-interest rates has led to an increase in mortgage refinancing activity. Recent years have seen an increase in home prices, which may be attributed to low mortgage rates, a shortage of available property, and strong consumer demand. In August 2021, the median existing-home price across all property types in the US increased 14.9% to $356,700. 
Recent months have seen a significant increase in property sales, which has fueled the housing market's activity. The National Association of Realtors (NAR) reports that the overall number of existing-home sales grew by 3.6% from June to July 2021. 
Before diving deep into the current mortgage trends, let us first understand the basics: 
Understanding mortgage
A mortgage is a loan to buy real estates, such as a house or a business. With a mortgage loan, the borrower—typically the property buyer—receives a lump sum of money from the lender, which they are then required to repay over a certain time period, usually with interest. 
The acquired property is used as collateral for the mortgage loan, which means that the lender has the right to foreclose on the property and take possession of it if the borrower cannot make the required payments. Because of this, a mortgage is frequently referred to as a "secured loan." 
Mortgages are a popular kind of financing used by both individuals and corporations to buy real estate, and they significantly impact the housing market and the economy. Most mortgages feature a predetermined repayment plan, a fixed or variable interest rate, and a predetermined time frame during which the borrower must make loan payments. A 30-year fixed-rate mortgage is the most popular; it has a set interest rate and monthly payments for the duration of the loan's 30-year life. 
Five Major Trends in Mortgage Industry
The mortgage industry, like any other industry, has been seeing paradigm shifts, be it in mortgage processing services or in the inclusion of AI and other technology used in mortgage processing. Below are the trends that you should look out for: 
Digitization of the Industry
It would be incorrect to assume that technology recently altered the secured mortgage processing. Nowadays, everything has been computerized, from buying homeowner's title insurance to adding a new listing. Due to this transition, hybrid/electronic mortgage closings are now commonplace in the mortgage business, which has affected the whole mortgage ecosystem. If you own a mortgage processing business, you can start from scratch or collaborate with a service provider with expertise in creating new digital procedures for other mortgage lenders. These partners may assist in developing a comprehensive platform that utilizes cutting-edge technology and puts the client experience at the forefront.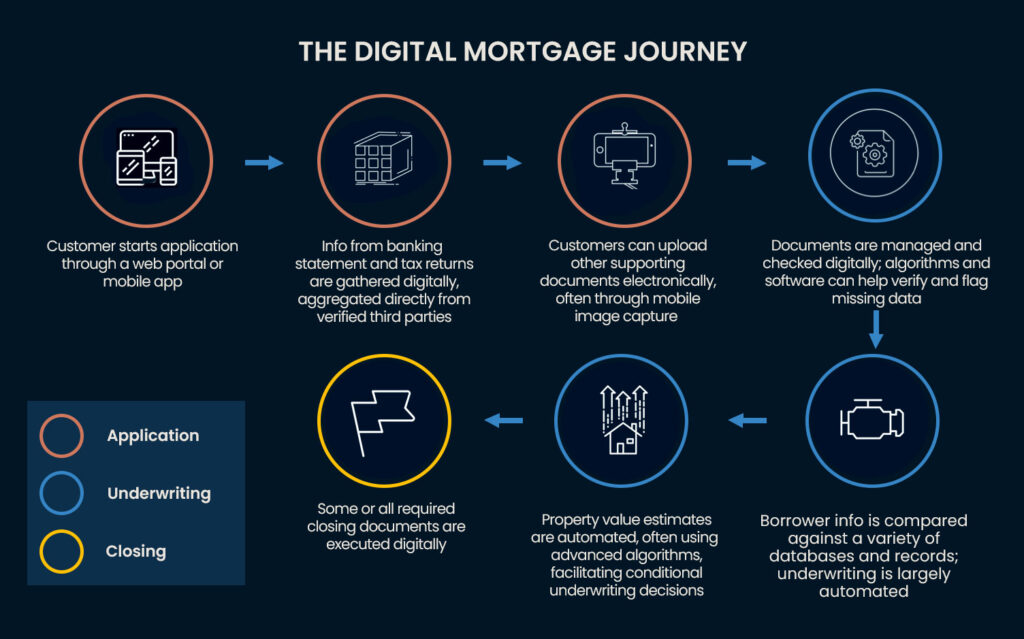 Preference to Mobility
Many mortgage processing companies want to know how new business models impact the mortgage sector. The trend towards prioritizing mobile is a significant new model. To thrive in today's fiercely competitive market, mortgage lenders must include mobility in every aspect of their business operations.  
All of your products and services must be simple for customers to access no matter where they are, as more people are starting to use mobile devices every day compared to traditional PCs. As a result, many mortgage processing companies are releasing applications with differing functionality; some let users keep track of the most recent mortgage rates, while others guide users through an online underwriting process step by step. 
Consumer validation is
critical
.
Client validation has long been frustrating for mortgage processing companies worldwide. It is a complex procedure that consumes much time without noticeable results. However, things are different since gathering a borrower's information, such as their assets, income, liabilities, debts, credit history, liens, judgements, identification, and job, requires a few simple procedures. Most of this information is available digitally and is necessary to finish a 1003 application. Now, gathering client information and back-filling the iffy 1003 mortgage application form is a much faster and more fluid process for both the lender and the customer. 
Borrowers have too many options.
The globe is now more linked than ever, and customers want rapid satisfaction. They want constant access to your items and your portfolio so they can contrast it with other portfolios that have a similar focus. Today's mortgage business is moving more and more towards self-service, so you do not have to be present to serve them. Improved self-service options offer helpful information and give customers access to learning resources that let them complete tasks on their own and help you save money. To improve client satisfaction, contemporary mortgage lenders now offer borrower portals where consumers can create pre-approval applications, check their credit score, and credit limit, and submit their files for automated underwriting. 
A surge of new players in the industry
To entice new consumers, some lenders have started providing non-traditional mortgage choices, such as interest-only loans or extended payback durations. These choices might result in cheaper monthly payments, but they also carry dangers, such as the possibility of negative amortization, which would see the loan debt grow over time. 
Conclusion 
The use of digital technology, historically low-interest rates, growing housing values, and greater refinancing activity are a few factors that have affected the mortgage processing sector recently. These patterns significantly affect borrowers, the housing market, and the economy. 
Generally, these trends are expected to continue in the near future for the mortgage business, but it is important to monitor market developments and any potential changes in government regulations. To make wise judgements and seize the market's chances, borrowers and lenders must be aware of these developments. 
If you are looking for mortgage processing support, feel free to contact us at Expert Mortgage Assistance. We offer Mortgage Loan Processing Support Services for Lenders by leveraging well-defined mortgage processing and the use of advanced technology. We help lenders expedite their loan closure cycles and seize the advantage amidst the growing competition between mortgage processing companies.