Mortgage Loan Processing Support Services for Lenders
We leverage a well-defined mortgage processing and advanced technology to help lenders expedite loan closure cycles and seize competitive advantage
In a highly competitive mortgage landscape, reduced turnaround times can keep your mortgage business a step ahead of your competitors. However, with the kicking in of new set of mortgage rules, originating loans have become tougher than ever. For instance, the new rules now require mortgage processing companies to verify and document a borrower's financial ability as thoroughly as possible to rule out any remotest possibility of default. This coupled with other government regulations, have made mortgage loan processing even more tedious and delicate.
Expert Mortgage Assistance is an experienced third-party mortgage loan process outsourcing company that leverages a well-defined mortgage processing and advanced technology to help lenders and brokers expedite loan closure cycles and seize distinct competitive advantage. We have standardized and automated loan processing back office processes to help lenders reduce operations costs, improve accuracy, and speed up time to market. Additionally, we provide access to cross-skilled staff to help lenders stretch their operations and handle up to 50% more volumes in peak times.
We help our clients process 10000+ loans per month
Quality Is the Byword for Our Mortgage Processing Process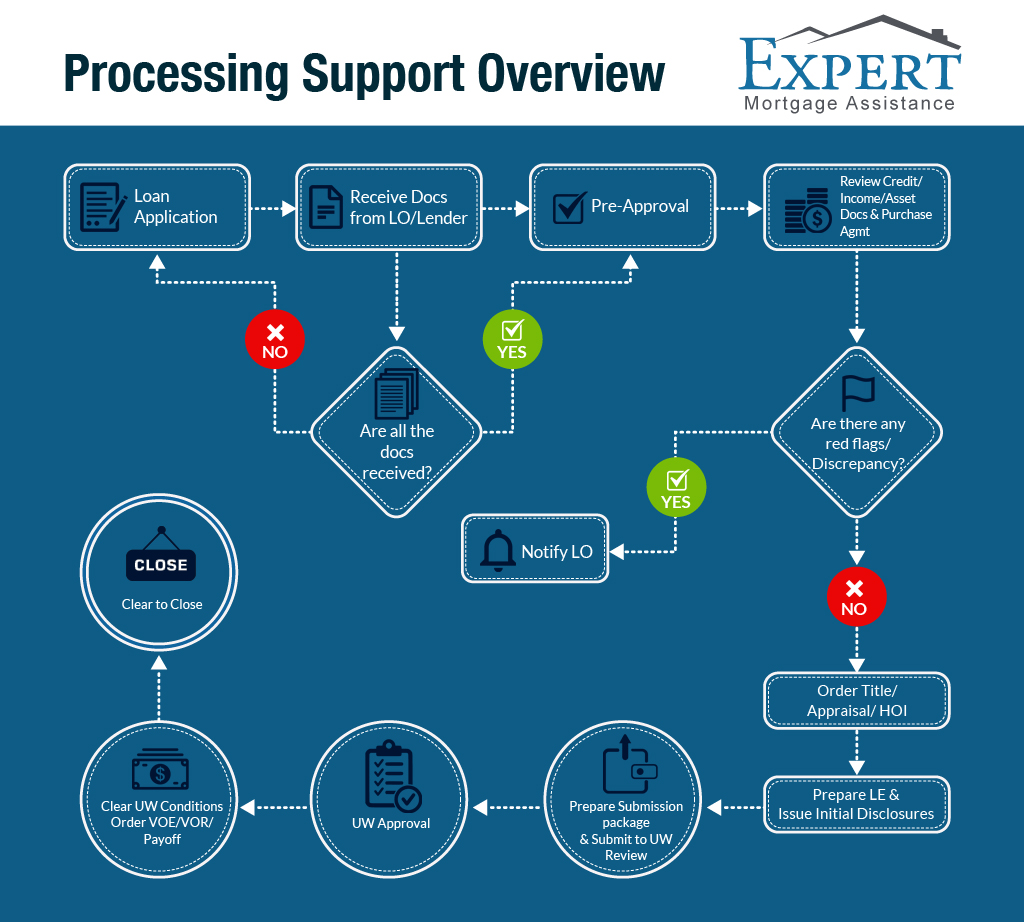 We Offer End-To-End Mortgage Processing Support Services
Review Document Compliance
Meeting document compliance is mandatory for meeting growing requirements of proof for regulatory compliance. To ensure this, lenders' today need a more inclusive approach to document compliance. Good document compliance can help them pass the test of regulatory analysis, identify competing regulations, institute tight operational process controls, have better control over data quality, and help them to develop better operational strategies.
As a reputed mortgage processing company, EMA receives documents and review document compliance—the first stage in loan processing. For example, Form 1003 is used to record the financial information of potential borrowers when they apply for a conventional mortgage. We review this form and all other documents such as W2s, pay stubs, GFE, TIL, Form 1008, borrower's authorization etc., to ensure that all the information necessary for processing the application is provided. After the review process is over, we generate the Loan Estimate (LE) to the consumer within 3 business days after having received the application.
As among the prominent third-party mortgage loan processing companies, we dedicate professionals with expertise specific to this domain. Our document review process is very meticulous and intensive. We carry it out to ensure that you are always in a position to provide evidence of the activities and data required by the rule.
Tax Returns
Copies of recent Pay Stubs
Copies of W-2 forms for past 2 years
1099 forms, Form 1003 etc
Bank statement copy
Renting history
Gift letters; Stocks and Bonds
Work visa or green card
Profit and Loss statement for self employed
K-1's for all partnerships and S-Corporations for the last two years
Credit Check
It falls upon the lender to investigate all major indications of derogatory credit of an applicant. The objective is to determine whether the information provided by the applicant is accurate, and whether the explanation provided to justify an exception is acceptable. Lenders should exercise more caution when evaluating the reports of applicants with non-traditional credit histories. By outsourcingmortgage loan processing services to us you get all the back-office support needed to assist lenders execute credit check for both traditional and non-traditional loans in a flawless manner. We are among the front running mortgage processing companies. We have your back with professionals who have spend substantial time in this industry to understand the associated complexities with this process.
We conduct a complete credit check of prospective borrowers to ascertain their credit worthiness. This includes pre-screening of credentials, obtaining and checking credit reports, credit history, FHA authorizations, Social Security status, and more. We also check for existing loans with MERS, payment defaults, tax returns and transcripts, etc.
Bank Statements
FICO score statements
Details of all current debts with copies of the last three-monthly statements
Review 3rd Party Documents
As per new regulations, lenders need to do everything at their end to reduce risk with 3rd party entities. These 3rd party may include appraisers, mortgage brokers, correspondents, or other business or individual. As an experienced mortgage loan processing company, Expert Mortgage Assistance has great expertise in reviewing 3rd party application information with real-time license checks.
We review third party documents like Appraisal, Title, HOI, 4506T (Tax Transcripts) etc. as loan application references and details of the property by authorized appraisers. As among the experienced third-party mortgage loan processing companies, we also check payment receipts for appropriate appraisal fees and check property titles.
On completion of the review, we provide you a detailed report with a clear focus on contradictory information, incompatible findings, and data that cannot be validated. The report will help you identify potential noteworthy issues that you need to be aware of in order to be compliant with regulations. So, by outsourcing mortgage processing 3rd party document review requirement to us you get the peace of mind needed to focus on the core aspects of your business.
Appraisal report
Title reports
Homeowners insurance
Form 4506-T
Letter explaining any gaps in employment in the past 2 years
Divorce decree/child support document
Copies of Insurance assets (Flood, Title, Homeowners etc)
Verification
Lenders need to verify key background data as part of regulatory compliance. Conducting verification on current employment status, likelihood of employment to continue, income and previous employment details need to be done with great care as any wrong or unvalidated information can lead to serious compliance violation. As among the experienced mortgage processing companies, Expert Mortgage Assistance has an established process to verify and cross-verify borrower detail till the correct picture emerges.
VoE (Verification of Employment)
VoD (Verification of Deposit)
VoM (Verification of Mortgage)
Verification of property sale history
Verification of appraiser signature and registration
Verification of property location
We conduct verification checks against all information provided by the prospective borrowers. This includes verification of disclosures for accuracy, VoE (Verification of Employment), VoD (Verification of Deposit), VoM (Verification of Mortgage), verification of property sale history, location maps, the appraiser's signature and license, registration, etc. Trust your verification requirements to an expert mortgage process outsourcing company to ensure flawless outcomes.
VA and FHA case numbers
The buyers applying for an FHA or VA loan are assigned an FHA or VA case number. Lenders need to fill a form to obtain the number. We help you order the number online by filling the form on your behalf. As incomplete requests may lead to a delay in generating the number, we execute this task meticulously to ensure there is no delay whatsoever.
Online form filling for generating FHA or VA case number
Loan Estimate Preparation
The new TRID rules replace the Good Faith Estimate (GFE) and initial Truth-in-Lending Disclosure with a three-page Loan Estimate. We help bankers, lenders, and brokers with preparation of Loan Estimate with due importance to accuracy of disclosures.
We are among the proficient mortgage processing companies, and we understand the importance of lenders providing frictionless and comprehensible documentation pertaining loan estimates to borrowers. We prepare Loan Estimates with due care to ensure borrowers have a clear understanding of the important aspects such as costs and risks of the mortgage loan. We also ensure the estimate is provided to loan applicants within three (3) business days after they submit a mortgage loan application. For correct loan estimate preparation outsource mortgage processing services to us.
Collect Supporting Documents
We assist lenders in collecting supporting documents such as bank statements, mortgage statements, pension statements, escrow documents, divorce decrees and child support documents, etc. We also order homeowner's insurance and the flood certificate for the property. After collecting all the documents, we file them in an orderly way for easy access and archival.
Loan Submission & Condition Clearing
This is the final stage of mortgage processing in which we submit your application to an underwriter for crosschecking your eligibility and validating the documents submitted. If the underwriter feels there are conditions to clear such as explanation of late payments or employment gaps, we help you speed up the condition clearing process.
The process of condition clearing is fraught with delays, with the most common ones being errors on the loan applicants credit report or the need to get few additional credit supplements. These can take any time between days to weeks thus leading to a delay in condition clearing to close a loan. In such scenarios, we take all the necessary steps to expedite condition clearing. We are among the client-focused third-party mortgage loan processing companies. This is why we dedicate a team of professionals with expertise in this domain who accelerate the process of condition clearing with more efficiency.
Extra Measures We Have Taken for Seamless Mortgage Processing During the Pandemic
Engage qualified workforce in the form of multidisciplinary experts, strategic advisors, and offshore teams to enable 24/7 service to handle the increase in work volume.
Redefine KPIs and reporting frameworks to cater to the CARES ACT-enforced new requests.
Delegate special workforce that can specifically focus on key areas which are regulatory dynamics and chances of potential frauds.
Simulate stress scenarios to help you assess your resilience, identify business risks, and accordingly frame mortgage forbearance, refinance, and risk management measures.
Adapt our service delivery with your preferred technology to process greater number of applications and preserve data integrity.
As An Expert Mortgage Processing Company, We Offer the Following Benefits
By outsourcing mortgage loan process to us, you get the following advantages:
1000+ highly trained mortgage underwriters and processors working fulltime
99% accuracy in reviewing all information in the loan file (credit report, VOE, VOD, property appraisal etc.)
Expert group to deal with regulatory requirements
Standardized and automated back office support for mortgage processing
Up to 30% reduction in TAT, leveraging 24/7 work environment
Up to 40% reduction in per employee operational cost
Flexibility to scale work up to 50% during peak times
Seamless communication and highly transparent operations
100% data confidentiality and privacy
Flexible staffing model
---
FAQs on Mortgage Processing Support Services
Mortgage loan processing is the process of collecting and preparing all the materials needed to secure a loan for a borrower. The process entails examining and verifying all the information contained in the loan application. It also involves reviewing the property title report and appraisal report which gives a first-hand account of the condition of the property. Once the documents clear processor requirements, they are passed on to the underwriter for a final consideration followed by underwriting the loan. Most lenders and credit unions outsource loan processing services to partners.
Third-party mortgage loan processing is the process of evaluating a mortgage loan and determining its eligibility by third-party back office support providers. Mortgage loan processing begins with the review of initial application and ends with post-closing quality checks. Third-party support providers have the skilled knowledge, resources, technologies, and experience to ensure this process is performed in an error-free, cost-effective and efficient way. Major lending institutions outsource loan processing services to third-party partners.
Our clients outsource mortgage processing services to us because our team of mortgage experts are well-versed in working with lenders across the globe. Our depth of experience, spanning over a decade, means that we are fully equipped to handle mortgage projects of all sizes and complexities. We stay updated on all the latest industry guidelines and standards so that our experts rely on only the most current trends and best practices to get their job done. We have developed this efficiency over a period of 10 years which is why we are rated amongst the best contract mortgage processing companies in the world.
Yes, we are licensed in 5 states. These include New York, Florida, Georgia, North Carolina and Texas.
It all depends on the complexity and volume of the requirement. For tasks such as loan indexing/setup, pre-processing, we can start as early as within 2 weeks anything complex than that may take up to 4 weeks, especially for end-to-end loan processing.
We use the software used by our clients. We do not host any software systems locally for performing or storing data. Since we are working with more than 60 mortgage companies across the US, we are familiar with almost every software systems used for preforming mortgage activities.
We assign resources according to our client's project requirements. As soon as a project is transitioned, we deploy full-time employees who work 8 hours a day, 5 days a week to take care of their business volumes and processing requirements. For new clients we start with small tasks. Once the client is convinced with our capabilities, we take add more headcounts to take up more work as required by the client.
No. We do not provide onshore operations as the major advantages of outsourcing like cost cutting, scalability, quality, and speed would not be realized with that setup. At the same time, we routinely send some of our project staff onshore for various purposes - from receiving performance feedback to implementing process improvements.
Our team of experts has worked with a host of clients from around the globe and from differing domains as well. As such, we have worked with numerous LOS systems that include the likes of Encompass, PC Lender, Calyx, Lending QB, etc.
Expert Mortgage Assistance is ISO 27001:2013 and SSAE16:SOC2 certified mortgage process outsourcing company. It takes numerous measures to ensure 100% data security for our clients. Our experts are strictly prohibited from downloading any confidential information or even hosting any of your data locally. In fact, all your sensitive data is stored on your own servers alone. We also ensure complete data security by limiting our access to our workstations through biometric data. Moreover, disabling external storage devices and being restricted to only white-listed Internet connections, means that our client's data remains secure and protected at all times. Our top-notch services coupled with our security mechanism makes us one of the best contract mortgage processing companies.
Our mortgage process outsourcing experts will keep you updated on your project's progress by communicating with your internal team about its latest developments regularly. In fact, any changes that are made to the project must first be sent to the client for approval, which ultimately means that you are in complete control of your project at all times. Our communication channels are always open to ensure that all pertinent information regarding the project's advancement can be shared with ease on a 24/7 basis. We conduct weekly process health check calls with the onshore and offshore team to calibrate and collect feedback with an intension to continuously improve our work and efficiency.
Expert Mortgage Assistance is renowned for being one of the most affordable loan servicing solutions providers in the mortgage domain today. We do not price our services on a per-file basis. Instead, you can choose to opt for pricing on an hourly basis or based on how many Full Time Equivalents (FTEs) you would like to hire on a long-term basis. We can provide you with a transparent pricing structure as soon as you send across your project's scope and requirements.