Outsource All Your Mortgage Closing Support Services to Experienced Professionals
As a specialized mortgage closing support services company, we cover all the stages of the mortgage loan closing process and guarantee error-free closures compliant with regulatory benchmarks
Expert Mortgage Assistance offers comprehensive mortgage processing services that help lenders and mortgage providers improve their back-office support. Our services ensure that mortgage closures are error-free, compliant, and efficient.
We understand the importance of accuracy in mortgage processing, which is why we provide timely loan estimates and standardized automated solutions that help disburse loans quickly. Our services are designed to save time, costs, and effort for lenders who outsource their mortgage closing support to us.
Our approach covers the entire mortgage closing process, from ordering title reviews to preparing closing statements, revising terms, liaising with agents, and securing and validating relevant documents. We provide reliable and comprehensive support to ensure that costs and fees are accurate, and data integrity is maintained.
In summary, our mortgage processing services help lenders and mortgage providers streamline their operations, reduce costs, improve accuracy, and ensure compliance with regulations.
We close over 10000+ loans for lenders and credit
unions in a month
Mortgage Closing Support to Provide Timely, Precise and Reliable Services
Rated by mortgage providers in the USA as the most comprehensive mortgage closing service provider, we deploy a closing process for quality assurance and reliable business performance.
The steps we follow are outlined here.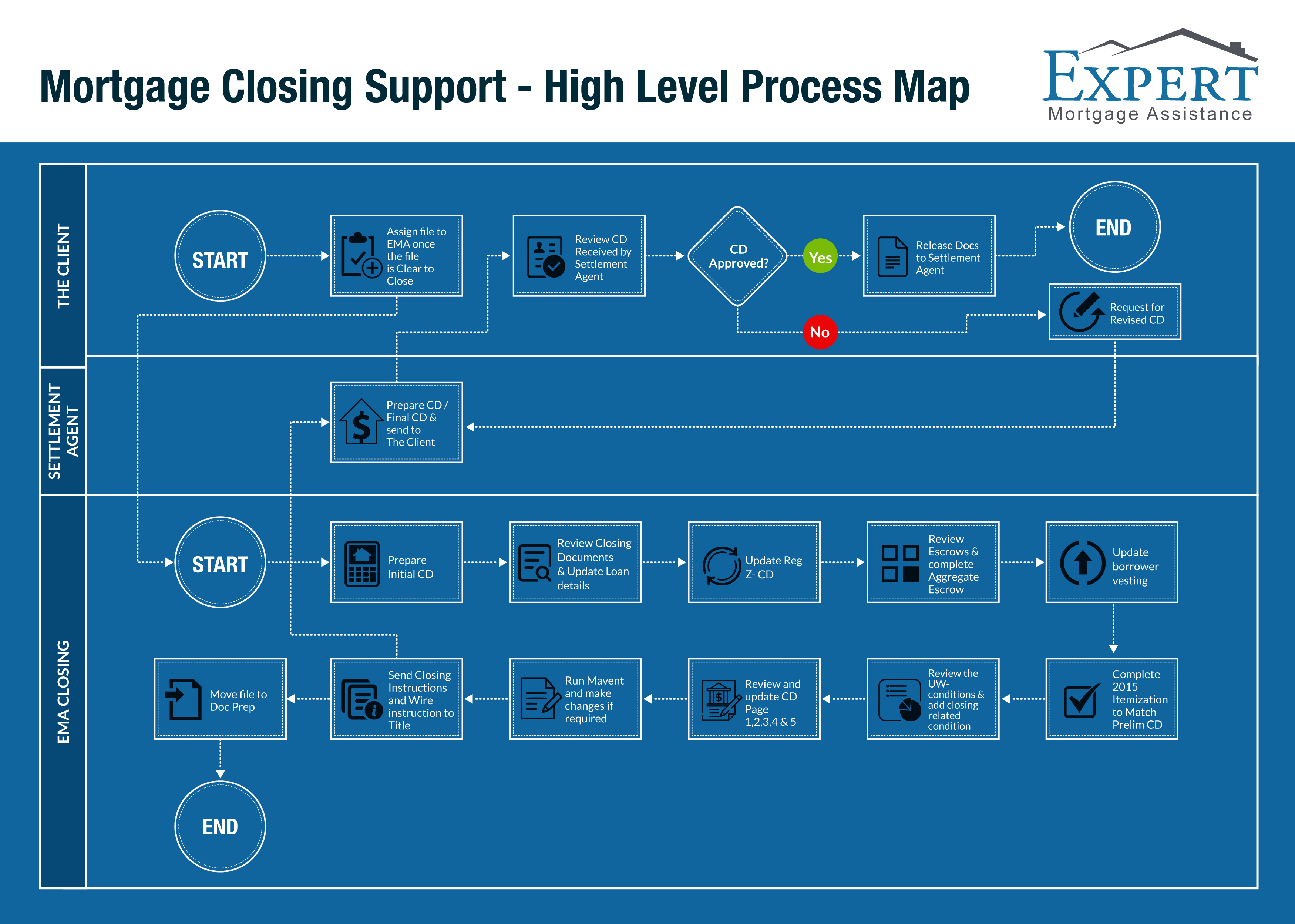 Gather and Validate All Relevant Mortgage Closing Documents
We gather all required documents for the mortgage loan closing process. This includes Loan Estimates and Closing Disclosure forms, Title Search documents, Homeowners and Mortgage Insurance, Appraisal, Inspection reports, etc. We also help lenders secure flood certificates, termite inspection certifications, water and sewer certification, and all documentation about the property location.
Get Prompt and Accurate Property Title Reviews
Our mortgage closing support and back-office operations are built for secure property reviews. We check all legal tenders and inspect any legal issues involved. By evaluating the property's chain of titles, we help you determine any listed exclusions or easements. Once reviewed, all files gathered are sequenced and validated for seamless mortgage closures.
Prepare Comprehensive Closing Instructions Statements
After each title review, the loan application is secured for mortgage processing by cross-verifying documents for inconsistencies. Our experts prepare comprehensive closing instructions statements and dispatch all information to the funding department with precision.
Securing Settlements and Tax Evaluations
We exercise our proficiency in validating mortgage data by working with settlement companies to evaluate taxes and fees to procure the escrow agreement. We pass on lender instructions to third-party agents to determine the best course for loan disbursement and mortgage closures.
Prepare and Dispatch Mortgage Loan Closing Documents Faster
We help lenders expedite mortgage closures by preparing and dispatching closing documents as per state and federal regulations. Once all the relevant documents are ready and validated, we ensure closing disclosures are sent three business days before signing loan documents. We follow up with settlement agents to close loans faster and securely.
Conduct End-to-end Pre-closing Audits for Accuracy and Reliability
Our pre-closing audits review the order status to ensure zero delays in closing the transaction. During this stage, we secure the purchase offer, finances and approvals post-inspection.
Obtain Down Payment and Closing Costs from Bank Post Deductions
We contact the bank to expedite mortgage closing support by procuring closing costs and other details. We provide accurate loan numbers and borrower information to get quick replies.
Get Prompt Payoff Statement Reviews for Mortgage Closure Support
Our team of experts' reviews payoff statements for details like loan amount, loan balance, and interest rates. The meticulous data validation process eliminates potential issues and expedites mortgage closures.
Prepare and File HUD Statements for Secure Mortgage Loans
We help lenders with all necessary information in the specified format and style, to adhere to regulatory compliance. We secure approvals from the lender and the buyer's attorney to secure HUD Settlement statements and all certifications required for efficient mortgage closing services.
Why Do Lenders Outsource Mortgage Closing Support to Industry Experts?
The best way to reduce operating costs, generate more revenue, accelerate turnaround time, and scale operational bandwidth is to outsource mortgage closing support to industry leaders.
Here's why lenders and mortgage providers consider outsourcing to us.
Lower Operating Costs
We help mortgage lenders lower operating costs by eliminating the need to hire staff. You also benefit from increased cost-savings as you scale your business up or down as needed.
Increase Revenue
Our experts, proficient with the intricacies of mortgage closure, use data-intensive processes and highly secure technologies to close deals faster. This allows our lenders to direct more focus to revenue generating activities while we secure deals for you.
Improve Customer Satisfaction
By closing mortgage loans faster and keeping all stakeholders informed at every step of the way, your customers have better experiences and thus become advocates for your business.
Quicker Turnaround Times
Our skilled mortgage closing experts are housed at multiple global delivery centers to give you an edge no matter the time zone, providing 24x7 support to you and your customers. By reducing the time taken to process mortgages, we guarantee accuracy of the highest order.
Cutting-Edge Technologies
We leverage automation and robust digital security to deliver fast and accurate mortgage closing services. Our expertise covers areas like Robotic Process Automation (RPA), Machine Learning, AI, and advanced analytics.
Deliver Seamless Business Continuity for Exceptional Customer Support with Expert Mortgage Assistance
Outsource your mortgage closing process to Expert Mortgage Assistance to tap into our global talent pool of trained and highly skilled mortgage processors. We assure lenders 99% accuracy in document review and dedicated experts to deal with regulatory requirements. With a standardized and automated back-office support system, we help you achieve a 30% reduction in turnaround times, and up to 40% reduction in operational costs with the flexibility to scale work up by 50% during peak hours.
Leverage our flexible staffing model and 100% data confidentiality to get your mortgage closures done quickly and accurately. Contact Expert Mortgage Assistance today to learn more about how we can help you improve your mortgage closing support services.
---
FAQs on Mortgage Closing Support Services
The most commonly included fees in closing costs fall into 3 categories: third-party charges, lender charges, and prepaid items. Some of the most common ones include title insurance, the origination fee, the discount fee, escrow fees, home appraisal fee, and prepaid insurance and taxes.
Our mortgage closing specialists can start working on your project in as little as 2 weeks. In that time, we will study and understand how your business currently operates to find effective ways to implement our mortgage closing solutions into your existing systems and processes.
We are a SOC2 and SSAE 16 certified organization that enforces strict data security and confidentiality measures across various processes in our operations. As an ISO 27001:2013 ISMS certified organization, we keep all our client data from policy information to financial data secure at all times. We have a host of security protocols in place to manage the security of assets entrusted to our care whether that be employee details, financial information, or intellectual property. We also prevent data breaches when executing online data transfers through well-insulated data storage devices. Further, we leverage 128-bit AES key encryption to ensure that our client data stays confidential and remains 100% secure on our servers at all times.
Closing on a house can take anywhere from 30 days to 60 days. It depends on multiple factors from what type of loan you are looking to get (whether that be an FHA loan, conventional loan, VA loan, etc.) to how financially stable your credit history seems to be.
Mortgage closing involves transferring the ownership of the property to the borrower once all the appropriate mortgage closing documents have been signed. It can take a few hours to properly verify loan documents and sign all the required papers at the closing table. You can expect to review every detail contained in the mortgage closing documents, deposit a cashier's cheque to cover the closing costs or down payment, and finally take ownership of the property.
We assist lenders with a host of closing services from HUD statement preparation to reviewing payoff statements and sending out Initial and Final Closing Disclosures. We also conduct pre-closing audits to ensure that all required documentation is in order and meets a certain quality standard so that it can be processed effortlessly and with speed.
Mortgage closing (also called mortgage settlement) is the final stage of the elaborate home loan process, where the title of the property finally gets passed on from the seller to the borrower.
At closing, a borrower will sign the loan documents, upon which the seller of the home will execute the deed to the property. All funds will then be gathered and disbursed, and the appointed closing agent will give the borrower legal ownership of the property.
If you would like some sales information or to get your hands on some pricing quotes for our services, you can always email us at info@expertmortgageassistance.com or fill out a brief form on our website.
True closing cost is the overall costs charged from the borrower after everything is finalized. It is charged after the loan is funded and is the actual cost or fees charged. Pre-paid costs on the other hand is an estimate of the fees that the lender may charge from the customer. So, it is also termed as estimates.