Outsource Mortgage Closing Support Services
As a specialized mortgage closing services company, we cover all the stages of the mortgage loan closing process and guarantee error-free and compliant services
Expert Mortgage Assistance specializes in providing back-office support services to lenders to close mortgages in an efficient, error-free, and compliant manner. As an expert mortgage loan closing company, we cover all the stages of the mortgage loan closing process including ordering title reviews, readying closing statements, liaising with agents, revising the terms, etc.
Mortgage closing is an intricate process. It involves providing a closing disclosure document. This document details the entire transaction, including a breakdown of the closing costs and fees. The two things that lenders or credit unions need to be careful about at this stage is to ensure accuracy. They must ensure delivering it three days prior to the day of signing of the mortgage. The rigidity of the new rules and the steep costs imposed on violators, calls for a more careful approach in discharging their duties.
It is quite an uphill task for lenders to assess data integrity and document quality control activities during the loanclosing stage.Therefore lenders must outsource mortgage closing requirements to a Freddie Mac compliant third-party. The third-party agents can assist them make closing more accurate and save on effort, time, and costs.
We close over 10000+ loans for lenders and credit
unions in a month
Quality Is the Byword for Our Mortgage Closing Process
We are rated among the best mortgage closing services companies because our closing process comes with assured quality. The steps we follow includes: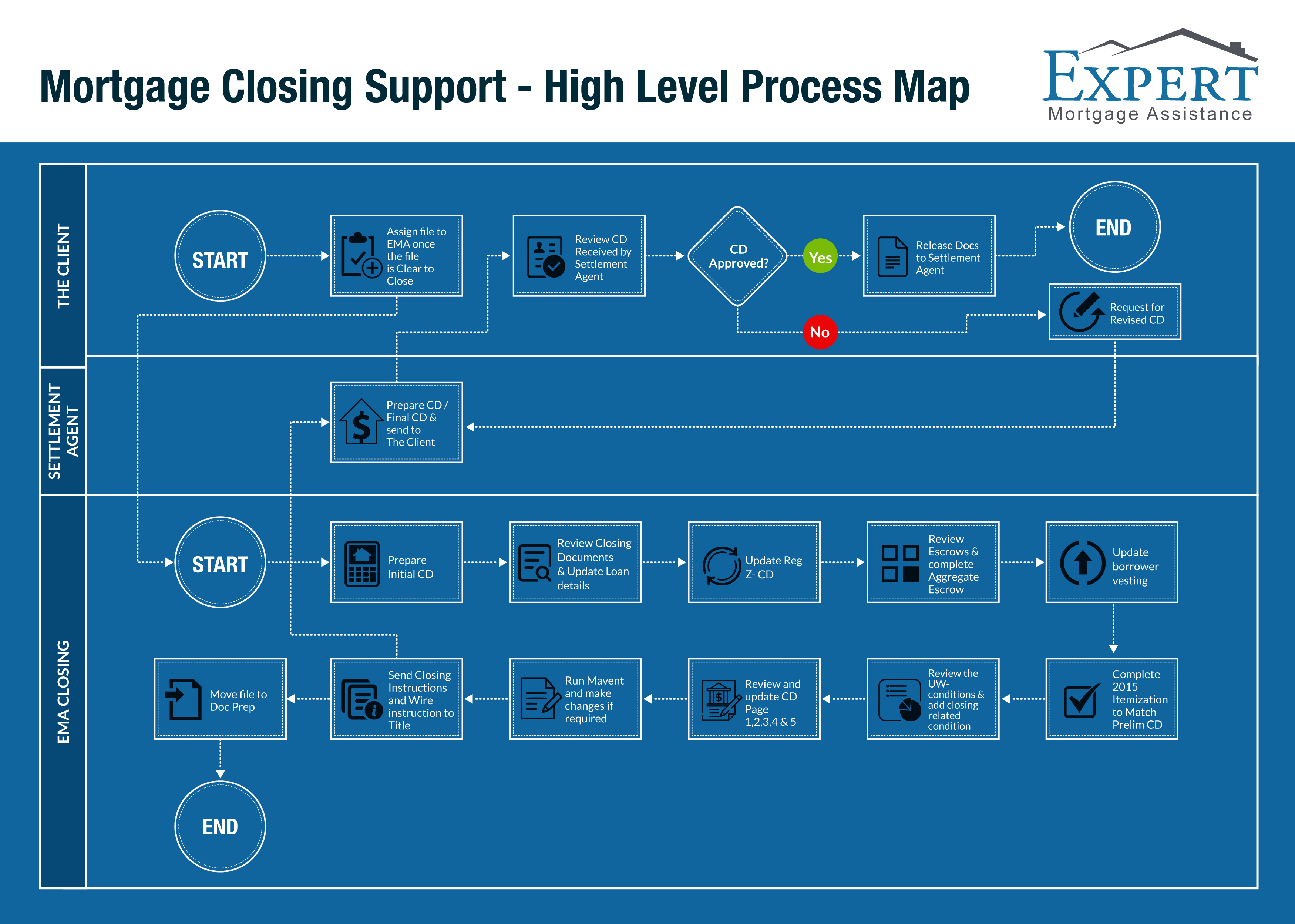 Collect Necessary Mortgage Closing Documents
We help you gather all documents needed for the mortgage loan closing process. These include Loan Estimates and Closing disclosure forms, title search documents, homeowner's and mortgage insurance, appraisal and inspection reports, etc. Besides that, we also collect other documents that may be needed because of the property's location. These include flood certificates, termite inspection certification, and water and sewer certification.
Collect all important documents required for successful mortgage closing (inspection reports, appraisals, title documents, CD forms, Loan Estimates, title search documents, etc.)
Collect documents related to the property's location (water and sewer certification, flood certificates, etc.)
Review Property Title
Our closing back-office services include one last review of the recorded legal rights of the property. We have a detailed look at the lawsuits, taxes, judgments, and liens involved. This process also involves evaluating the property's chain of title, Title insurance policy, and plat. This is to determine if there are any listed exclusions or easements that need to be considered. After the review, we arrange the files in the right sequence to make the mortgage closing process seamless.
Arrange the required files in the right order to facilitate easy processing
Final evaluation of recorded legal rights
Detailed look at the property's chain of title
Review of the Title insurance policy with its listed exclusions
Review of the plat, which indicates the legal property boundaries and any records of encroachments or easements
Preparing Closing Instructions Statement
Following title review, the loan application is reviewed for one last time for inconsistencies. As we approach the mortgage closing timeline, our experts prepare the closing instructions statement and send it to the funding department along with the Bank Note, E&O Insurance and Wiring Instructions, etc.
Final review of the loan application for errors, which includes appraisal reports, flood certificates, inspection reports, homeowner's insurance, etc.
Prepare the closing instructions statement
Deliver the closing instructions statement to the funding department, along with bank notes, wiring instructions, and E&O insurance
Working with Settlement Companies
We work on your behalf with settlement companies to evaluate taxes and fees and procure the escrow agreement. We also pass on lender instructions to settlement agents to determine how the mortgage funds are distributed at mortgage loan closing.
Reach out to settlement companies for fee sheets
Obtain the escrow agreement
Evaluate taxes and fees
Send lender instructions to the settlement agent
Determine how funds will be distributed at closing
Preparing and Dispatching Important Mortgage Loan Closing Documents
We help lenders prepare and dispatch closing documents as required by state and federal laws. Thesedocuments include the loan estimate, the closing disclosure, the notice of the right to rescind, and the initial escrow statement. In keeping with the rules, we ensure closing disclosures are sent three business days before the signing of loan documents. We also ensure that we follow up with settlement companies to close loans within the mortgage closing timeline.
Prepare and send the initial CD and other closing documents (Loan estimates, closing disclosures, etc.)
Ensure 100% compliance with federal regulations
Follow up with settlement companies in closing the mortgage loan
Our Closing Service Steps:
Closing document preparation and review
Add closing and funding conditions as required
Examine Title
Tax, insurance & reserve audits
Preparation of statutory statements and deed
Review all open conditions and ensure all underwriting conditions are signed off on
Submit loan package to lender and clear lender conditions
Contact hazard insurance company to obtain new mortgagee clause
Prepare the document order form and fee sheet and fax to the Loan Officer for approval
Fax approved documents to the appropriate lender
Prepare the Prelim HUDs (settlement statements) and Final HUDs based on the Closing Instructions/Fee Sheets/Invoices
Obtain closing protection letters and wiring instructions
Change the loss payee clause on the approved file
Our End-To-End Mortgage Closing Services
As part of the pre-closing audit, we review the order status to ensure there is no delay in closing the transaction. During this stage we make sure that the purchase offer has been acknowledged, finances secured, and the proposed home has been approved post-inspection.
Our next steps include:
Obtaining Down Payment and Closing Costs from Bank After Deducting Deposit
We get in touch with the bank on behalf of you to get the closing costs and other details. We take care to provide accurate personal information, loan number, and other information of the borrowers to get a quick reply.
Contact bank for closing costs, etc
Guarantee accuracy of respective documents to expedite the process
Review Payoff Statement
We review the payoff statement for details like loan amount, payment made towards the loan, balance due, and the interest rate. This is done in a meticulous manner to ensure that no issues arise at a later stage.
Review payoff statements for interest rates and the balance due to close the loan
HUD Statement Preparation
The HUD Settlement Statement is used to itemize all charges imposed on a buyer and requires the approval of the lender and the buyer's attorney. We help you include all the necessary information in the specified format and style, while maintaining regulatory compliance.
Ensure 100% regulatory compliance
Review all the borrower's loan terms (i.e., interest, prepayment penalties, variable rates, escrow requirements, principal amount, etc.)
Assist in reviewing and signing settlement statements
Pre-closing audit includes:-
Reviewing information as per AUS
Reviewing LE and CD
Reviewing HOI, Title, Flood certificate and Appraisal
Reviewing notes
Verifying the information on 1003 and ACH form
Benefits Of Outsourcing Mortgage Loan Closing Services
If you are looking to reduce operating costs, generate greater revenue, and accelerate turnaround times, then outsourcing mortgage closing services to experts in the industry can be vastly beneficial. As one of the leading mortgage closing services companies USA we offer a range of benefits such as:
Lower Operating Costs
We help mortgage lenders lower their standard operating costs by eliminating the need to hire closing experts. We also help them save heavily on costs when there is a need to scale operations.
Guarantee Better Revenues
Our mortgage closing specialists manage data-intensive mortgage closing process with a great level of expertise. This allows our clients to focus more on revenue generating activities while we handle the nitty-gritty of the closing process on their behalf.
Improve Customer Satisfaction
Our specialists help close mortgage loans without any hassles whatsoever. This ensures your customers have a better loan closing experience. An improved customer experience is the key to a rapid business growth.
Quicker Turnaround Times
We operate from multiple global delivery centers. This helps our clients leverage the time zone advantage and keep their operations running 24x7. Along with reduced processing times, we guarantee accuracy of the highest order.
Cutting-Edge Technologies
We leverage cutting-edge technologies to deliver fast and accurate closing services. Some of such technologies include, Robotic Process Automation (RPA), Machine Learning, AI, and advanced analytics.
Mortgage Closing Tips During a Pandemic
Educate buyers about the rules implemented by Freddie Mac, Fannie Mae, and government authorities
Replace physical appraisal with Drive-by Appraisals, Video-tours, and Desktop research
Monitor credit report and score and ensure a last-minute check before closing
Get on a phone call or video chat with company HR representative to confirm your client is still in work
Do not opt for closing in person in states where e-signatures and online notarization is possible
In states where e-signatures are not allowed, it's prudent to undertake socially distanced notarization
It is advisable to confirm title insurance requirements and limitations from title insurance companies on a closing-by-closing basis
Why Outsource Loan Closing Services to Expert Mortgage Assistance
By outsourcing your mortgage closing process to us, you receive the following benefits:
1000+ highly trained mortgage processors working full-time
99% accuracy guaranteed in the reviewing of closing documents (closing disclosure, promissory note, Deed of Trust, etc.)
Expert group to deal with regulatory requirements
Standardized and automated back-office services for mortgage closing
Up to 30% reduction in TAT, leveraging a 24/7 work environment
Up to 40% reduction in per employee operational costs
Flexibility to scale work up by 50% during peak times
Seamless communication and highly transparent operations
100% data confidentiality and privacy
Flexible staffing model
Meeting new TRID regulations pose a big challenge for lenders. An expert third-party partner will help you overcome such challenges by correctly preparing and assembling the required mortgage closing documents. An expert mortgage closing company such as Expert Mortgage Assistance has the know-how to incorporate new disclosures into the daily flow of loan origination, loan processing support, and loan closing.
Looking for back-office support from a reliable offshore mortgage closing company? Outsource mortgage closing services to Expert Mortgage Assistance to make your process more accurate and time bound.
---
FAQs on Mortgage Closing Support Services
The most commonly included fees in closing costs fall into 3 categories: third-party charges, lender charges, and prepaid items. Some of the most common ones include title insurance, the origination fee, the discount fee, escrow fees, home appraisal fee, and prepaid insurance and taxes.
Our mortgage closing specialists can start working on your project in as little as 2 weeks. In that time, we will study and understand how your business currently operates to find effective ways to implement our mortgage closing solutions into your existing systems and processes.
We are a SOC2 and SSAE 16 certified organization that enforces strict data security and confidentiality measures across various processes in our operations. As an ISO 27001:2013 ISMS certified organization, we keep all our client data from policy information to financial data secure at all times. We have a host of security protocols in place to manage the security of assets entrusted to our care whether that be employee details, financial information, or intellectual property. We also prevent data breaches when executing online data transfers through well-insulated data storage devices. Further, we leverage 128-bit AES key encryption to ensure that our client data stays confidential and remains 100% secure on our servers at all times.
Closing on a house can take anywhere from 30 days to 60 days. It depends on multiple factors from what type of loan you are looking to get (whether that be an FHA loan, conventional loan, VA loan, etc.) to how financially stable your credit history seems to be.
Mortgage closing involves transferring the ownership of the property to the borrower once all the appropriate mortgage closing documents have been signed. It can take a few hours to properly verify loan documents and sign all the required papers at the closing table. You can expect to review every detail contained in the mortgage closing documents, deposit a cashier's cheque to cover the closing costs or down payment, and finally take ownership of the property.
We assist lenders with a host of closing services from HUD statement preparation to reviewing payoff statements and sending out Initial and Final Closing Disclosures. We also conduct pre-closing audits to ensure that all required documentation is in order and meets a certain quality standard so that it can be processed effortlessly and with speed.
Mortgage closing (also called mortgage settlement) is the final stage of the elaborate home loan process, where the title of the property finally gets passed on from the seller to the borrower.
At closing, a borrower will sign the loan documents, upon which the seller of the home will execute the deed to the property. All funds will then be gathered and disbursed, and the appointed closing agent will give the borrower legal ownership of the property.
If you would like some sales information or to get your hands on some pricing quotes for our services, you can always email us at info@expertmortgageassistance.com or fill out a brief form on our website.
True closing cost is the overall costs charged from the borrower after everything is finalized. It is charged after the loan is funded and is the actual cost or fees charged. Pre-paid costs on the other hand is an estimate of the fees that the lender may charge from the customer. So, it is also termed as estimates.