MSuite: The Mortgage Automation Tool to Bring Efficiency into Mortgage Processing
MSuite is an advanced automation tool that leverages AI and OCR to automate critical loan processing tasks and improve turnaround and accuracy
Msuite Mortgage Automated Tool
Lenders that recognize the need to go digital with their operations, are looking for advanced technological solutions. The challenge, however, lies in knowing what technology will work to get the desired results and understanding if the upfront commitment or time, effort, and money is worth it without even knowing the possible outcome. For instance, solutions like mortgage automation is not for everyone and must be adopted only after having a complete understanding of the scope of work. EMA's understanding of this ground reality and experience in serving over 100+ lenders/servicers over the last decade has helped it come up with a proprietary automated Mortgage Suite of solutions - MSuite.
MSuite leverages some of the best technologies to automate a number of mortgage processing needs and make the shift to digital seamless. It can be used as an indexing engine, data extraction engine, rules engine and reporting engine to improve turnaround and accuracy, realize cost savings and scale operations. With MSuite, lenders neither have to worry about a large upfront investment, nor get tied into a long-term contract. This enables mortgage lenders/servicers implement automation with little to no effort, negligible upfront investment, guaranteed cost savings and assured outcomes. Furthermore, the solution can be adopted without carrying out any major internal changes.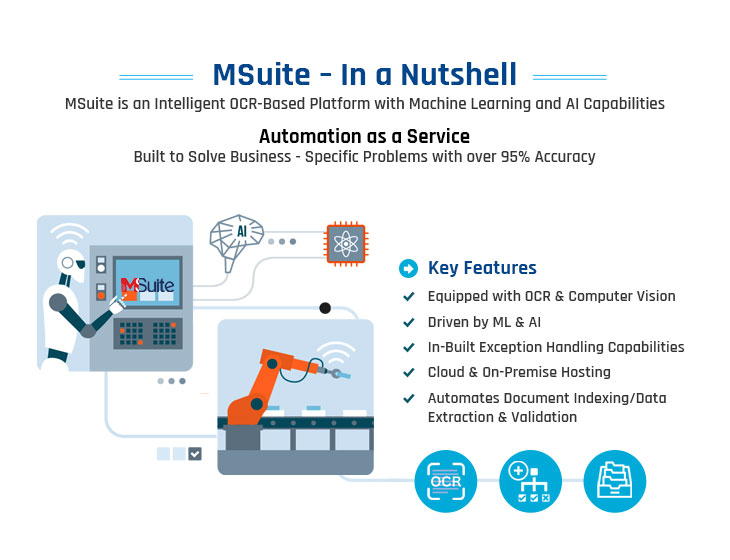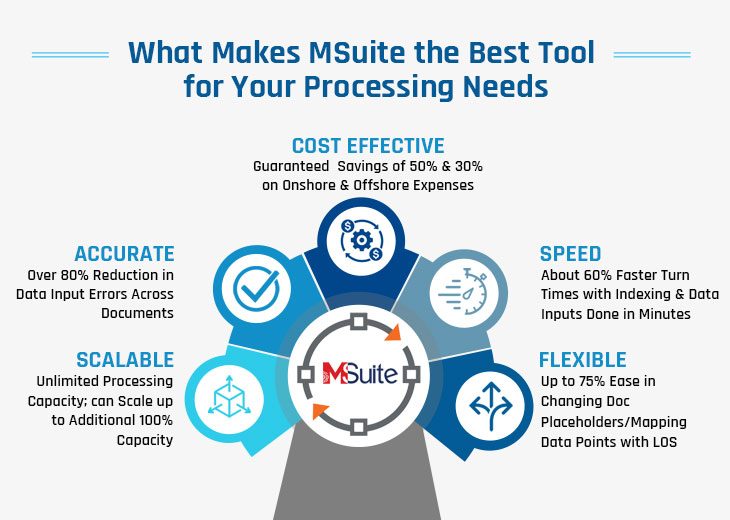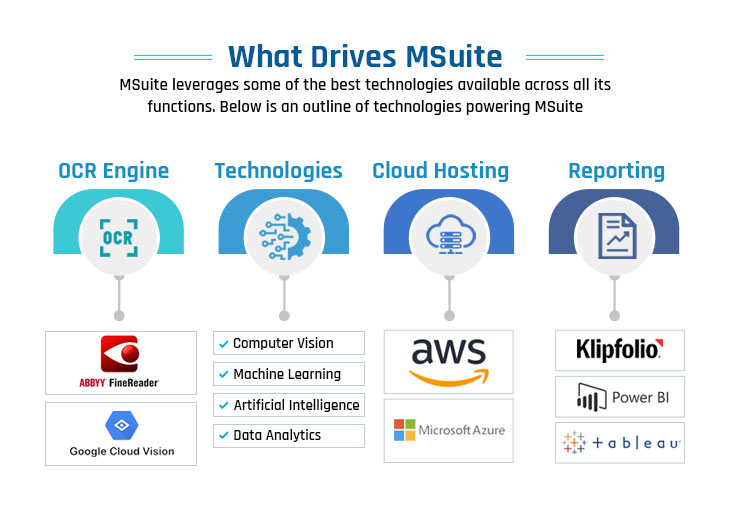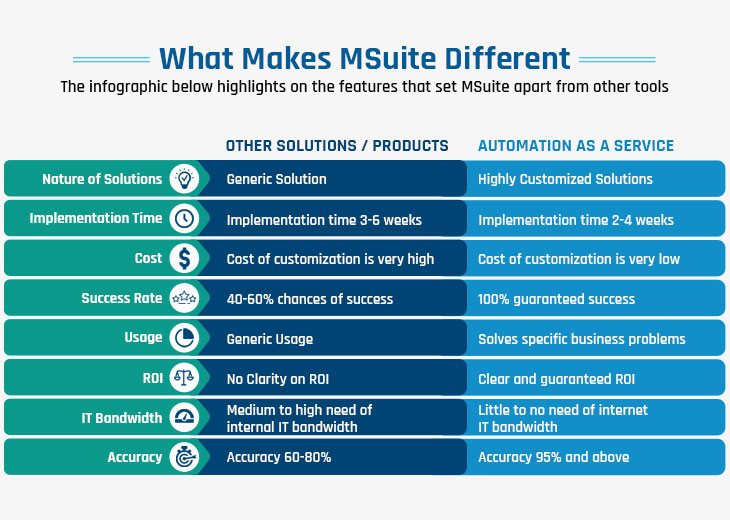 See how MSuite works:
Why Do Lenders Require an Automation Tool?
Mortgage loan processing has always been a time consuming, error prone and expensive task because of intensive manual involvement. Over reliance on human intervention to fetch, compile and read data from multiple sources, verify data through a stare and compare approach, verify from third-party sources, and quality control, demands intensive human intervention. All of these can now be eliminated with the help of automation. Automation transforms the way mortgage operations - front, middle and back office - are done by removing dependencies on human intervention. The technology mimics human actions that are routine, rule-based and workflow driven, thereby creating a simulated workforce that works similar to a human workforce, but at a much efficient & larger scale. Further, automations require no complex systems integration, no heavy infrastructure requirements and can work seamlessly with both structured and unstructured data.
MSuite: The Ultimate Mortgage Automation Solution
Powered by cutting edge technologies, MSuite is built to support the current as well as future needs of the mortgage industry. As an advanced automated solution, the tool can be used to automate a number of transaction processes. It comes equipped with some inbuilt features to handle many critical functions. Some of these include:
Indexing Engine:- MSuite's indexing engine is capable of recognizing 350+ types of documents including those with varied formats. The tool leverages OCR, Computer Vision and Machine Learning to classify documents with 95% accuracy and with exception handling requirement.
Data Extraction Engine :- MSuite helps to extract data points from various documents (income, asset, collateral, closing docs, final docs, insurance docs etc.). In case of digital docs, it does it with 100% accuracy and for data points with OCR confidence score lesser than 90%, it extracts data with 98% accuracy.
Rule Engine:- MSuite's robust and dynamic rule engine helps to manage thousands of rules seamlessly. The rule engine can be customized for every deployment so that it covers only those rules that are required for the particular scope of work. The tools rule engine currently automates distinct tasks such as a thorough review of files acquired for servicing and underwriting of certain loan types with specific borrower profile.
Reporting Engine :-MSuite provides detailed reports and trend analysis of all automated tasks. It is capable of generating standard reports to address critical parameters and custom reports to address specific business needs. The tool is capable of reporting on almost all the data points being stored in the system.
MSuite is an ideal automation solution because it helps lenders meet three critical requirements - improving turnaround & accuracy, reducing operational costs, making operations highly scalable – and at the same time, provides tech savvy borrowers the ultimate digital mortgage experience.
How We Helped Our Clients Win with MSuite
Overcome Processing
Delays
Client
A home loan product company headquartered in Cherry-Hill, New Jersey
Challenges
Delay in file review process
Fluctuating loan volumes; inefficient resource utilization
How MSuite Turned Things Around
Reduced loan processing time from hours to minutes
Eliminated dependencies on staff
Brought down overall processing costs significantly
Read our case study
to know more about our solution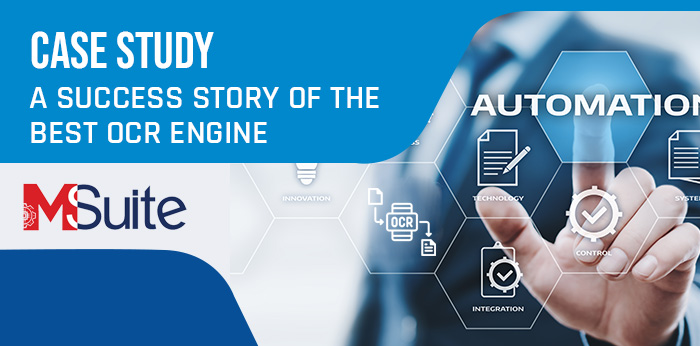 Streamline Workflow with Automation
Client
A Non-bank mortgage lender headquartered in Fort Mill, South Carolina
Challenges
Time consuming loan shipping process
Over reliance on manual indexing of documents
How MSuite Turned Things Around
End-to-end automation reduced loan boarding time by 20%
Increased accuracy of bookmarking process; up to 99%
Increased savings of up to 45%
Read our case study
to know more about our solution
Why Use MSuite to Automate Your Mortgage Process?
By leveraging MSuite, you stand to benefit in the following ways:
Up to 70% quicker turn times on tasks automated by MSuite. Get documents indexed and data input completed in minutes
Up to 80% reduction in indexing and data input errors across all documents processed by MSuite
Unlimited processing capacity. It helps you manage 100% or more volumes with a simple 24-48-hour advance notice
Up to 75% lesser effort in making changes to document placeholders and/or mapping of data points within the LOS
Over 50% cost savings on manual processes handled onshore and up to 30% cost savings for manual processes managed offshore
MSuite integrates seamlessly into a wide variety of loan origination systems, making it a versatile document management tool
The software can be hosted on a robust database with cloud access and data backup
MSuite can be availed at zero implementation costs, no fixed costs, and no upfront costs
Deploy MSuite to avail all the benefits of automation for your mortgage business. For more, contact Expert Mortgage Assistance now.