Outsource Mortgage Appraisal Support Services
Our robust back office support services for mortgage appraisal is designed to spot every controversial property issue and bring it to the attention of the lender or appraisal company
Expert Mortgage Assistance (EMA) offers a full suite of residential, commercial, and specialized appraisal services to lenders, credit unions and appraisal companies. We combine intelligent valuation technologies, relevant market-based data, and analytics with our domain expertise to provide a simplified and highly accurate and reliable property valuation service. Every mortgage appraisal is completed in keeping with with the Dodd-Frank Act, Appraiser Independence Requirements, the Interagency Appraisal and Evaluation Guidelines and Federal Reserve Board Interim Final Rule.
Given the declining value of homes and the rising number of foreclosures and distressed sales, the importance of appraisals reports has grown significantly. Added to this is the need to conform to regulatory requirements which requires lenders and credit unions to produce accurate loan appraisal reports. All this has made the need for quality and upright appraisal services paramount.
As a reputed mortgage appraisal support company, we leave no stones unturned to provide acceptable reports with credible property value. To ensure this at all costs, we have a robust appraisal review process in place, which reviews every report based on the key aspects of the appraisal process. The key aspects we watch for include location of the property, particularly those in declining markets, over-valuation of property value, inappropriate comparable sales and also make sure that non-traditional properties.
Quality is the Byword for Our Mortgage Appraisal Process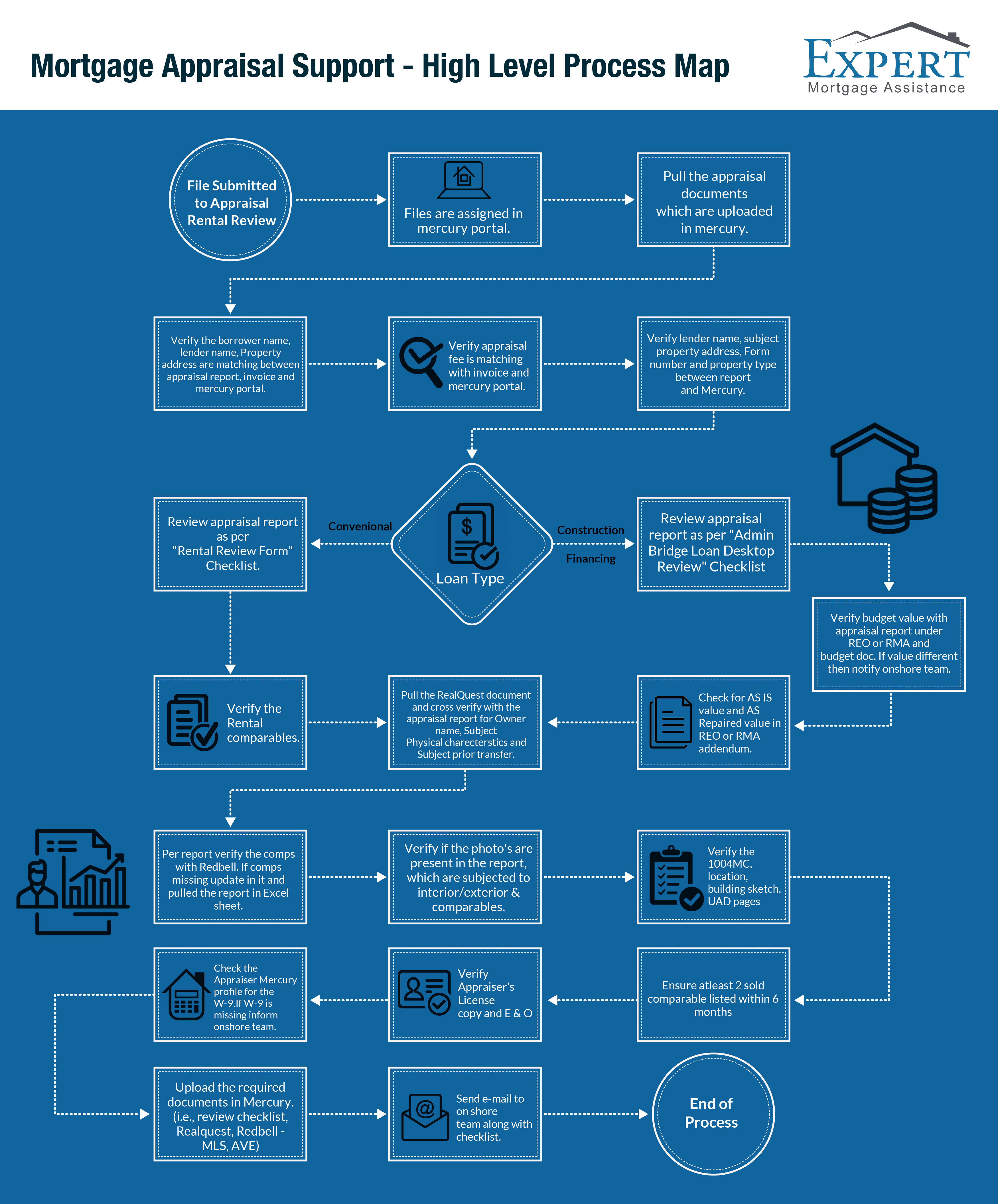 We Offer a Range of Mortgage Appraisal Support Services
Appraisal Ordering
We order appraisals with the respective appraisers within a few minutes of the request being received from the lender or the mortgage appraisal support company. Our follow-up team works with appraisers to ensure every step of the mortgage appraisal process like scheduling the appraisal, inspecting property, and reporting gets fulfilled in the least possible turnaround time.
We leverage advanced technology to order, monitor and deliver every appraisal order. We have wide experience in initiating immediate assistance for all your loan appraisal needs. We also ensure our clients get real time updates on appraisal status.
Appraisal Review
Once the report is received we review it for thoroughness, consistency and compliance (USPAD & UAD). To put it succinctly, our mortgage appraisal service review is designed as a risk management tool. The review is done with utmost care, so that every potential issue with the property is spotted and brought to the attention of the lender. This ensures lenders get a clear and thoughtful analysis of the factors that impact the market value of the property.
During the mortgage appraisal process, we primarily look into the technical and logical aspect of the report. In the logical aspect we try to understand the reasoning used by the appraiser to arrive at their final opinion of value. It is at this stage, that we bring our experience to the fore. In the technical stage we evaluate how the appraisal is put together and check if it meets regulatory guidelines along with Uniform Standards of Professional Appraisal Practice (USPAP) guidelines. All our mortgage appraisal review support services are performed by qualified and experienced appraisers, which takes away all your worries pertaining to accuracy and compliance.
We review 15000+ appraisals on a monthly basis
(on behalf of Lenders and Appraisal Companies)
When lenders require a professional valuation of property, instead of a formal appraisal report, we help them with reliable Broker Price Opinions (BPO) to determine the general property value. Our BPO services include:
Exterior inspection and description of the property's condition
Estimates of repairs to obtain fair market value
Pictures of the property and street
Estimated value based on normal and 30, 90, 120, day marketing times
Current neighbourhood listings
Location map
Satellite map
Our broker price opinion is designed to help lenders or mortgage appraisal companies get accurate estimate for any of the following: estimating value before the property title exchanges hands, estimating the value of collateral for which the loan is sought or while refinancing, computing property liquidation value, buying out a partner's interest in a property, etc. We specialize in all the three primary methods used in broker price opinion process to determine market value. These include Sales Comparison Approach, Income Capitalization Approach and Cost Approach.
Comparative Market Analysis
Our CMA services are accurately designed to help you determine the listing price for your home. Some of the services we do:
Exterior and interior inspection and description of the property
Pictures of the property, street scene and interior photos of all rooms and repair items
Itemized list of repairs with cost to cure
Estimated value based on normal and 30, 90, 120 day marketing times, "as is" and "as repaired"
Homeowner Association details
Active listings
Listing of Sold properties
Location and Satellite map
Our approach to comparative market analysis is based on identifying the property to be sold or purchased with homes of similar size, age, condition and style that has been recently sold in a certain neighbourhood. In case of non-availability of identical homes, we compare it with homes that closely match the home in question. This helps us determine a fair market analysis for a home.
While these services are the central component of our mortgage appraisal support, we also help mortgage appraisal companies register and manage appraisers.
Why Outsource Mortgage Appraisal Services to Expert Mortgage Assistance
Our clients outsource mortgage appraisal back-office services to us because we guarantee quality appraisal reports. We ensure our market value opinions is supported with strong judgements and deep analysis. We make sure not to miss out on all factors that impact the market value of the property and back our claims with the right documents.
By outsourcing appraisal back office services you stand to gain in these ways:
1000+ highly trained mortgage processors working fulltime
99% accuracy guaranteed in review of appraisal report
Dependence on multiple resources to estimate value
Flag and re-evaluate questionable appraisals
Standardized and automated back office support for appraisal review
Up to 30% reduction in TAT, leveraging 24/7 work environment
Up to 40% reduction in per employee operational cost
Flexibility to scale work up to 50% during peak times
Seamless communication and highly transparent operations
100% data confidentiality and privacy
Flexible staffing model
Fannie Mae Appraisal Forms / Reports
Our appraisal form filling/report making is done strictly in keeping with the appraisal guidelines of Fannie Mae/HUD.
Single Family Forms
1004
Uniform Residential Appraisal Report
2055
Exterior-Only Drive-By Appraisal Report
2075
Property Inspection Report
1004MC
Market Conditions Addendum to the Appraisal Report
1004D
Appraisal Update and/or Completion Report
Condominium Forms
1073
Individual Condominium Unit Appraisal Report
1075
Exterior-Only Drive-By Single Condominium Unit Appraisal
Manufactured Homes
1004C
Manufactured Home Appraisal Report
Investment Property Forms
1025
Small Residential Income Property Appraisal Report
216
Operating Income Statement
1007
Single Family Comparable Rent Schedule
Cooperative Property Forms
2090
Individual Cooperative Interest Appraisal Report
2095
Exterior-Only Inspection Individual Cooperative Interest Appraisal Report
Review Appraisals Forms
2000
One-Unit Residential Appraisal Field Review Report
2000A
Two-to Four-Unit Residential Appraisal Field Review Report
Government Guidelines:
In strict keeping with the intent of Federal, State or GSE guidelines, EMA firmly believes in an unbiased appraisal review, and reporting.
Looking for a premier mortgage appraisal services company to streamline your appraisal process? Outsource appraisal services to Expert Mortgage Assistance for unmatched excellence in appraisal management.